At the Military Heritage & Aviation Museum, our goal is to ensure that future generations continue to express that gratitude. Freedom isn't Free !
A Whole New Experience!
Visit our new location located at 900 W. Marion Ave. in Punta Gorda Fl. This magnificent building has over 17,000 sq. ft of exhibit and activity areas.
On the first level, take a walk-through history through three unique galleries; from the Revolutionary War through modern conflicts. Visit the Hall of Hero's and its special Medal of Honor exhibit. On the second level become part of history, through simulations and virtual reality including aircraft, tank, and naval simulators. Take a parachute jump or drive a tank – two incredible virtual reality experiences. Visit the War Room and Library. Visit our 247-seat theater and watch one of the movies or programs we feature every week. 
The Military Heritage Museum is so much more than just a museum! It is an education-centered institution that works directly with local schools and other organizations to offer history and STEM based inter-active learning experiences to students of all ages. The Museum is also a performance arts center which, through live performances in its theater, provides impactful and moving experiences utilizing theater, music and documentaries focusing on US heritage and history. The Museum serves as a direct conduit to providing human services to meet the needs of Veterans through facilitating, hosting, and sponsoring several Veteran organizations. The Museum is a community gathering place, hosting many other organizations who utilize the museum's facility to reach out to their constituents
Hours of Operation:
The Military Heritage Museum is Open TUESDAY – SATURDAY 10 a.m. – 4 p.m.
The Museum is closed on Easter, Thanksgiving and Christmas and New Years Day
Call: 941-575-9002
Flight Simulator is open from 10 a.m. – 3:40 p.m. and Virtual Reality is open from 11 a.m. – 3 p.m.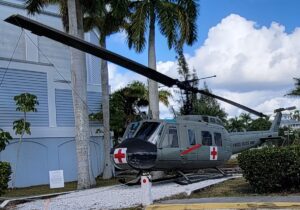 Enjoy a Cockpit Tour of the BELL UH-1H HUEY – Saturdays from 11 a.m. – 1 p.m.
The Huey is an icon of the Vietnam War and an angel of mercy for American troops who fought there, the Bell UH-1 Iroquois, affectionately known as the "Huey," has gone on to become the most recognizable helicopter in the world. Fifty years after its birth, the Huey remains the only aircraft to be used by all branches of the United States military, including the Coast Guard. To American troops who were exposed to constant enemy fire, the Huey and those who flew them were angels from on high.
CONNECT
Through a blend of integrating its twenty thousand plus artifacts, veteran museum guides, flight simulators, graphics, live performance, and audiovisual; the Museum provides unique innovative experiences throughout its 17,000 sq. ft. facility.
DISCOVER
By hearing the stories of military history and heritage through artifacts, audio-visual, graphics, veterans' individual stories, visitors learn about well-known events from the incredible heroes who served and sacrificed for our country.
ENGAGE
The second-floor activity areas create a realistic and fun experience while providing visitors unique educational opportunities. Fly on our military aircraft in the Flight Ops simulator room, experience virtual reality from the beginning of aviation to the International Space Station and operate military replica weapons in the smokeless laser gun range.
900 West Marion Avenue, Punta Gorda, FL 33950
PHONE: 941.575.9002
YOUR SAFETY…is our top priority! Masks and social distancing are encouraged for your safety while visiting the Museum.