The Punta Gorda Elks Lodge in Punta Gorda. The Friendly lodge on the Peace River where neighbors come together, families share meals, and children grow up.
Eagle's Nest Lounge
Open 7 Days
25538 Shore Dr, Punta Gorda, FL
(941) 637-2606
Entertainment Most Days.
See www.PuntaGordaElks.org for Schedules.
A light lunch is available in Monday and Saturday, and a full lunch menu is available Tuesday thru Friday. 
The name "Eagle's Nest" comes from the early 1900's when our Lodge was a famous hunting and fishing lodge.
There was an Eagle's Nest in one of the larger tree's on the property.
Eagle's Nest Restaurant
Many tables provide a beautiful panoramic view of the Peace River and upper Charlotte Harbor.
Eagle's Nest Cabins
Cabin Rentals are available to Elk's and their Guest's by the night, week, or month.
Cabins include kitchens, bathrooms and sleeping facilities for up to 4 people.
Visit http://www.puntagordaelks.org for More Information!

Punta Gorda Elks Dock
The depth of the water at the end of the dock varies from less than 2 ft. at very low tide to more than 4 ft. at high tide.
The depth decreases gradually as you move closer in toward the seawall.
Members and guest are allowed to fish from the dock and tie up their boats for day events at the lodge.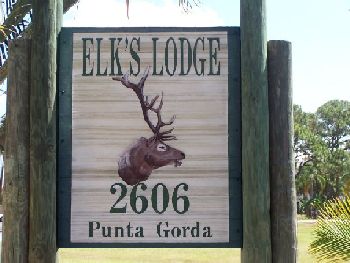 The Eagle's Nest Restaurant is open for dinner Wednesday thru Saturday from
5P.M. – 8:00P.M.   Lunch is served in the Eagle's Nest Lounge Monday – Friday from
11A.M – 2P.M. & Saturday from 11a.m.-2p.m.
A lite lunch is served on Monday's (cold sandwiches and soup).
Chicken Nite is every Monday from 4:00-8:00P.M. Chicken Dinner for $10 (all volunteer event), the tiki bar opens at 1p.m.
Who We Are
We are… A fraternal order with nearly a million members and a 150-year history, a network of more than 2100 lodges in communities all over the country, a generous charitable foundation that each year gives millions in scholarships, an inspiration to youth, a friend to veterans and more.
The essence of the Elks, our focus and our purpose.
The Elks are involved in a wide variety of programs, from scholarships to drug education to Veterans Services.
Check out our more than 2,100 National lodges.
Some essays on the History of the Order.
Visit www.PuntaGordaElks.org for Information on becoming a Member!
Like us on Facebook!
Punta Gorda Elks: Directions
Located on the beautiful Peace River in Punta Gorda, FL.
25538 Shore Dr, Punta Gorda, FL
(941) 637-2606